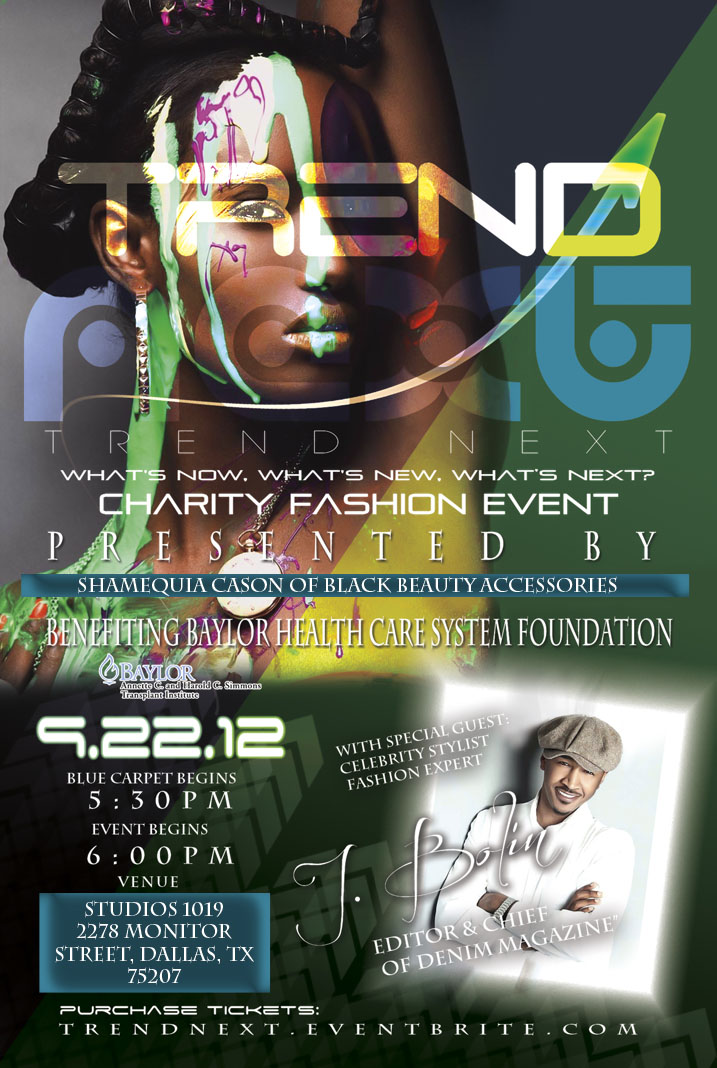 What's Now, What's New, What's Next
September 22, 2012 at Studios 1019 in Dallas, TX will mark a milestone of merging Fashion and Charity together, as Shamequia Cason of Black Beauty Accessories and The Glam Bar By: Demmi collaborates to present "Trend Next"-What's Now, What's New, What's Next.
Shamequia Cason can now check off one her personal goals to give back to an organization (Baylor Hospital) that has so "Graciously" invested in her life story via commercials, billboards and an aggresive ad campaign to expose the blessed gift of organ transplantation.
In the fashion industry, the questions are always focused on-What's Now, What's New & What's Next. And While keeping things "Trendy" "Relevant" & "Amazing". The fashion industry contributes to the entire entity of "TREND NEXT".
Keeping Charity in mind, the highlight of the night will be our featured guest: JASON BOLIN-Celebrity Stylist Fashion Expert and Chief & Editor of Denim Magazine. J. Bolins's resume includes NeNe Leakes of Real Housewives of Atlanta, gracing the 1 year anniversary cover of Denim Magaazine, Cynthia Bailey-Real Housewives of Atlanta, Wendy Ragquel of the hit series-The Game, Hosea Chanchez of The Game, Nicole Parker from Soul Food, Malinda Williams from Soul Food, Vivica A. Fox, Christina Milian, Jessica Reedy, Le'Andria Johnson, The new cast of R&B DIvas-Faith Evans, KeKe Wyatt, Syleena Johnson, Nicci Gilbert, Charity Shea of VH1's SIngle Ladies and many MORE..........
THE EVENING WILL BE FILLED WITH TRENDY, RELEVANT, AND FASHION FORWARD ADDITIONS TO THE INDUSTRY, WITH AMAZING BLUE CARPET INTERVIEWS WITH "Mr. FASHION AND NEKI BOSH".
Our Sponsorship List includes: Baylor Hospital, Black Beauty Accessories,Motives for LaLa, Nunn Better Catering,MyGi's Desserts, Event with Love, Corrieagraphed Events, Lewis Favor Management,Demure Model Management, Doll House Salon, Tyriana Scents and Candelabrum Group.
More sponsors are being added.
We are so excited about our collaboration with Baylor Hospital and we are asking for your support!
SEE YOU THERE!
For Sponsorship Opportunities or Ticket Information, log on to trendnext.eventbrite.com or call 972.805.6509.
For Press and Media Related inquiries, e-mail Jennifer Onwumere at thecandelabrumgroup@gmail.com or call 214.801.0674.